There are several reasons why residents and business people in Camrose trust us for quality painting services. We have a strong mission that we fully abide by when delivering our services to our clients.
Here are some of the reasons why you should choose us to do your painting work in Camrose, Alberta: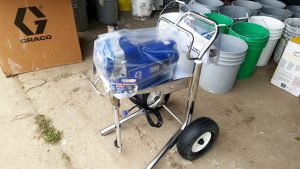 Quality Work
When it comes to paintings, it is easy to determine the quality of work done. You can clearly differentiate a quality job from a crappy one. As professional painters in the area, we are proud of delivering high-quality paintings. Our painters are skilled in this job and have all it takes to deliver a quality job. We handle each project with utmost care and precision. Before we call it a day, we ensure that you are satisfied with what we have done.
Seamless Communication
As a professional painting company, we keep our communication lines open. You can reach out to us through various channels, including email and phone calls. We will respond to your requests promptly and courteously. With us, there are no ignored emails or phone calls. We also don't keep our clients waiting. Once they place their requests, we do all it takes to answer them.
Even while doing the job, our crew will be open to getting further information from you. We understand that proper communication guarantees quality output.
Punctual and Flexible
Once you contract us to do a painting job, we will strive to complete the job in good time. Our painters will arrive at your premises in good time to begin handling the project till it is complete. They won't take unnecessary breaks that will end up wasting time.
Apart from being time-conscious, we are also flexible. We can adjust our working hours to fit your schedule. We consider your needs and ensure that our work does not cause any kind of interference in your premises.
Locally Owned

We are a painting company based in Camrose. This means that we specialize in providing our painting services in your locality. We fully understand what the locals look at when hiring a painter and we strive to achieve beyond their expectations. As a local company, we can easily come to the site of the work and complete the given task to your full satisfaction.
Professional and Experienced Painters
We have an able team of professional painters who have the necessary knowledge of everything that entails quality painting. Our foremen have many years of experience in this industry, meaning that no task is difficult for them. They apply their unique sets of skills and experience to deliver a quality workmanship. From the many years of experience, we can easily separate quality and mediocre workmanship.
Even while on your premises, we carry ourselves in a professional manner. We stick to what has brought us there and don't interfere with other things. You will feel safe having us at your premises.
Licensed and Insured
We are fully licensed to provide painting services in Camrose, Alberta. This means that you will be dealing with a reputable firm that has met all the legal requirements. Apart from the license, we are fully insured. All our employees are insured against all risks that can happen while they are at work. In case of an accident, you won't worry about paying any compensation. Note that we can always provide our insurance certificate whenever you ask for solid proof.
Numerous Positive Reviews
The quality of our painting work does not go unrecognized. Our customers are happy with our paintings and have given positive reviews about our work. This is possible through our customer-oriented approach of doing business. We derive our satisfaction in seeing a happy and contented customer. This is why we always dedicate ourselves to meeting the needs of our clients. We have a good reputation in Camrose and beyond.
Free Estimates
Once you express your willingness to work with us, we will send you a detailed quotation to show the amount that you are supposed to pay. We keep everything transparent and there are no hidden charges. With these estimates, you can arrange the finances for the project effortlessly. Contact us today at any time for an enjoyable experience and quality work.